Read how Shamina, a domestic violence survivor fulfill her calling by working as a councellor with the Vikalp helpline
I, Shamina, am working with Vikalp Helpline as a counsellor. This helpline provides information & counselling to girls and women facing domestic violence as well as information on sexual and reproductive health.
I am a domestic violence survivor. I was beaten by my in-laws a few years into my marriage. I had no support from my family and I was afraid to voice my concerns. I was unaware of any legal recourse possible to combat this abuse.  I often wondered how many women like me go through this each day. Since then, I decided I will work for an organization that helps women and young girls raise their voices against sexual harassment and domestic violence. Today under the Vikalp Helpline, I counsel so many young girls and women every day. They share their anguish, emotions and worries. I counsel them to speak out and voice their concerns, provide legal-related information. This helpline has empowered me to help others in every possible way. Many women who I have counselled through our helpline, have called back and shared positive results. I feel so happy that I managed to help them and make them stronger. Talking to these survivors and helping them out gives me a sense of peace and relief that I can fight my own battles.
Initially, we worked offline, maintaining case documents, pulling up old files for follow-ups etc., but with Intelehealth's support, our work is now hassle-free, we save a lot of time in making notes instead we just feed in the information on the app and can access any document with just a touch of a button or screen. I am grateful to the people who have launched this helpline; it is a dream come true. Today, I am a much stronger woman than ever. I urge survivors of domestic violence and sexual harassment, to call on the helpline (1800-309-4120) and seek support. You are not alone, we are here to listen to you and help you in every possible way.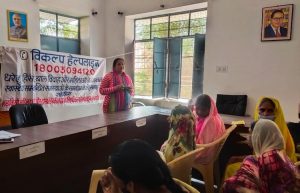 Shamina spreading awareness about Vikalp Helpline in Udaipur