NGOs that provide essential services like healthcare, food, water, housing, sanitation need adequate infection control measures in place to make sure their staff and volunteers stay safe while also providing their beneficiaries the right information. This online training for health workers/volunteers/field workers offers them adequate knowledge about COVID 19, it's transmission and preventive measures for public or beneficiaries and themselves. With this knowledge they can perform their activity using adequate protective actions and preventive measures. They can discharge their duties confidently and without fear of acquiring disease from their beneficiaries and also offer protective instructions to beneficiaries.
Interested in organizing a training for your organization?
COURSE CONTENTS
Primary information of virus and disease, mode of spread, clinical features (signs and symptoms), protective measures like social distancing, hand wash, avoid risky touch, cough etiquette, etc. Role of Personal protective equipment, role of isolation and quarantine. Treatment and prophylaxis.
OBJECTIVES
At the end of this discussion, participants will be able to train their staff in activities of Covid-19 epidemic so that they can:
Tell signs and symptoms of novel corona virus/COVID 19.

Undertake surveillance to identify suspected case of COVID 19.

Provide linkage with ASHA/Health workers for further action.

Take up proper preventive measures for them selves.

Wear triple layer mask as per guidelines.

Tell messages of IEC covering all of the points of social distancing, cough etiquette, hand wash and touch care.

Demonstrate ability to give messages on role play settings.
After the training is complete, attendees will be sent a post-training quiz. Certificates will be issued to participants on successful completion of the quiz (scoring 80% or higher).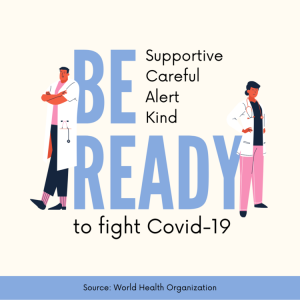 Courtesy: Canva
TIME
1.5 hours
TRAINERS
Dr. Bimal Buch, Chief Medical Officer. M.B.B.S., M.B.A. (H.M.), F.C.G.P., F.P. Consultant, D.H.R.D., P.G.D.H.R.M., P.G.C.H.M.,P.G.C.HIV/AIDS, Dip.T.D. Orange belt Six sigma (MSME), PGC QM & AHO (Post graduate certificate in Quality management and accreditation of Hospital organization), Dip. C.M.H. (NIMHANS)
UPCOMING TRAININGS
Interested in organizing a dedicated training for your non-profit? please fill out our contact form and we will get back in touch with you: https://www.intelehealth.org/contact
Download this poster pack of Covid-19 precautions and put up in your premises, courtesy of Canva
POSTERS