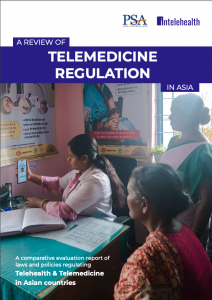 Telemedicine is commonly understood as the delivery of healthcare services with the use of information and communication technologies, and its potential was unlocked during the COVID-19 pandemic. It acts as a viable and efficient alternative healthcare delivery model to conventional in-person care. However, there may be a need to formalize telemedicine in many jurisdictions and establish norms and guidelines around its privacy, ethical and legal concerns.
With the aim to understand the regulatory framework around telemedicine across Asia, Intelehealth and PSA undertook a comparative study of 51 Asian regions to identify the prevalent norms, implementation status, key components, and limitations. While comprehensive telemedicine regulations in most Asian jurisdictions continue to be a work in progress, there is consensus that they are integral for building resilient healthcare delivery systems.
Based on the study, it was identified that only 15 Asian countries have binding telemedicine laws, and 5 have non-binding guidelines, some of which were only effective during the pandemic. Despite this, there has been a rise in the use of telemedicine, and most Asian countries have enabled use of telemedicine systems through public-private partnerships and international collaborations. The study also revealed that most telemedicine laws have certain common themes around practitioners, kind of tech tools that can be deployed, patient consent, compliance with ethical standards, and data protection. It also emerged that there are ambiguities in existing frameworks around the manner of implementation, limitations on the scope of telemedicine, permissible technology standards, qualifications, funding and reimbursement aspects.
View/Download the report now – https://drive.google.com/file/d/1qfyBlg6kKk0D9OH1ZGQim3o_GIEQEqQt/view?usp=drive_link