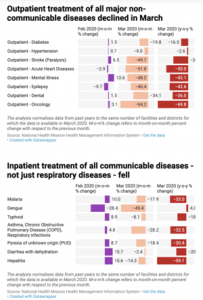 Source: Livemint
The COVID-19 pandemic has completely disrupted the delivery of regular health services in rural areas and put an enormous burden on the healthcare system. This stress on the public health system is going to result in increased maternal and child mortality, deaths due to non-communicable diseases, deaths due to malaria, reduced immunization rates, higher birth rates due to poor access to family planning, etc.
The COVID-19 pandemic has placed increased importance on the role of telemedicine in the delivery of routine healthcare services. Remote healthcare minimizes direct contact between a patient and a provider and reduces the risk of infection transmission. It also allows for the decongestion of healthcare facilities. The WHO includes telemedicine as an important component of "Maintaining essential health services: operational guidance for the COVID-19 context (June 2020)" and recommends shifting the delivery of rousing services to digital platforms
Hence, in the light of the current pandemic, guidelines have been issued for patients to seek medical consultations with healthcare providers on phone first and only then visit in-person if the healthcare provider deems that an in-person visit is necessary. As much as possible, the use of remote healthcare is encouraged for the delivery of essential health services.
We're working with state governments, district governments, and NGOs in India to set up telemedicine projects in rural areas by strengthening the Ayushman Bharat program. This project aims to create a telehealth network that connects Health and Wellness Centers (HWCs) under Ayushman Bharat [i.e. Primary Health Centers (PHCs) & Sub centers (SCs)], or Spokes, with a nodal Medical college, or Hub, to deliver essential health services related to COVID and essential health services like ANC care, child health, first aid, etc.. Thus patients can get appropriate advice for home-based care and appropriate referrals for management via telemedicine at the HWC level itself. We have partnered with Aaroogya Foundation to create a network of on-demand remote doctors with 200+ active doctors from 20+ different specializations like General Medicine, Pediatrics, Cardiology, Obstetrics & Gynecology, Orthopedics, ENT and Neurology. Here's a short video explaining how our technology and our model works.