The Prime Minister of India Narendra Modi launched
Ayushman Bharat Digital Mission (ABDM)
. The key components of Ayushman Bharat Digital Mission include a health ID for every citizen that will also work as their health account to which personal health records can be linked and viewed with the help of a mobile application. This health account will contain details of every test, every disease, the doctors visited, the medicines are taken, and the diagnosis.
What is the unique health ID?
A health ID is a randomly generated 14-digit number, that will uniquely identify every citizen and will be a repository of their medical history.
The ID will be broadly used for three purposes:
Unique identification
Authentication, and
Threading of the beneficiary's health records
All this will be done only with their informed consent, across multiple systems and stakeholders. Also, a user will be able to permanently delete or temporarily deactivate her health ID.
The beneficiary will have to set up a Personal Health Records (PHR) address for consent management, and for future sharing of health records.

What is a PHR address?
It is a simple self-declared username, which the beneficiary is required to sign in to a Health Information Exchange and Consent Manager (HIE-CM). Each health ID will require linkage to a consent manager to enable sharing of health records data.
An HIE-CM is an application that enables sharing and linking of personal health records for a user. At present, one can use the health ID to sign up on the HIE-CM.
The National Health Authority (NHA), however, says multiple consent managers are likely to be available for patients to choose from, in the near future.
What is the Rationale Behind Digital Health Mission?
Problems for patients: With the current processes in hospitals, when a patient develops any complication, it gets difficult to track events. Moreover, in the absence of digital health records, a patient has to carry files of several years of treatment. In the event of an emergency, even this is not possible. Due to this, a lot of time, of both the patient and doctor, is wasted, and the cost of treatment too, increases a lot, as the medical consultation and investigation have to be started from absolute zero.
Problems for health professionals: Like patients, in the absence of a digitized medical history, it's a nightmare for doctors to get all the medical data required to make an accurate clinical diagnosis. They are under tremendous pressure due to the fear of possible human error, which can adversely affect a patient's life.
The Digital initiative seeks to address these issues by creating a seamless online platform to access treatment records, and enable faster and effective treatment.
How will this help citizens?
The digital health ID, which creates a health account, ensures that old medical records are not lost, as every record will be stored digitally. So, it will remove unnecessary repetition of diagnostic tests and procedures, and bring about standardisation of care.
The digital ecosystem will also enable a host of other facilities such as online consultations, diagnosis and delivery of medicines. The digital ecosystem will also cut the unnecessary travel that patients in rural areas and small towns have to undertake to access healthcare.
With data on people's health at hand, the government can nudge people towards healthy lifestyles, thereby preventing diseases and saving costs to the people, which means that people with good lifestyles will have to pay lower health insurance premiums.
THE ECOSYSTEM
The Ayushman Bharat Digital Mission (ABDM) aims to develop the backbone necessary to support the integrated digital health infrastructure of the country. It will bridge the existing gap amongst different stakeholders of Healthcare ecosystem through digital highways.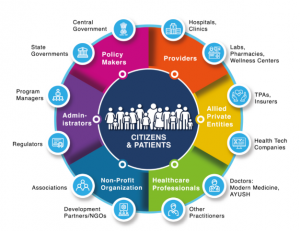 Source : https://ndhm.gov.in/
VISION
ABDM shall create a seamless online platform "through the provision of a wide-range of data, information and infrastructure services, duly leveraging open, interoperable, standards-based digital systems" while ensuring the security, confidentiality and privacy of health-related personal information.

Source : https://ndhm.gov.in/