Intelehealth & Transform Rural India Foundation contributes to the National Health Mission (NHM) by working with the Government to build a successful implementation model and a more user-centered technology for the eSanjeevani telemedicine platform launched by the Ministry of Health and Family Welfare (MoHFW, Government of India). Intelehealth works as an implementation partner to the State Government of Jharkhand for the training of health workers and doctors, mobilization of leadership, community advocacy, monitoring, and evaluation leading to a successful deployment of eSanjeevani in the state.
In addition, we provide technical advice to the tech platform by addition of new features for low bandwidth/offline compatibility, better training of health providers, improved security practices, improved data dashboards, and more reliable system performance. The SoPs and technology developed in this project will be used for national replication of eSanjeevani Platform implementation for amplified impact.
The platform has enabled over 25000 consultations for many health issues faced in rural areas. The project is currently working in five aspirational districts – Khunti, Gumla, Loherdaga, Simdega, and Ranchi.
NEONATAL HEALTH
Jangi Devi's 2day old baby recovers from rashes post-diagnosis
Jangi Devi, from Gumla district in Jharkhand was distressed when her 2-day old newborn got red rashes all over her body including her face and trunk. So the troubled mother seeking a solution to her baby's rashes visited the nearby Health & Wellness Centre, which was working under the eSanjeevani telemedicine program. The Community Health Officer (CHO) connected Dr Nalanda Singh via video consultation for a proper diagnosis. Dr Nalanda did an intensive investigation of the case by asking Jengi Devi relevant questions. From her investigation, Dr Nalanda learned that the newborn was being wrapped in a blanket rather than soft warm clothes and would have to continue to do so until certain rituals were completed.
The mother wanted to protect her baby from the rituals but due to family pressure and a rigid mindset of elders, she had to give in to their decision. Dr Nalanda decided to speak to the baby's grandmother to influence or change this conservative mindset. Dr. Nalanda counseled the baby's grandmother and explained the health problems it could lead to due to wrapping the baby in a blanket. Dr Nalanda also prescribed some medication but emphasized on ensuring the baby wears soft warm clothes. The grandmother was convinced and followed the doctor's instructions. In two day's time, the grandmother herself came back to the HWC with joy and told the CHO that the baby has recovered. She thanked the doctors and CHOs for their selfless efforts and also the counseling provided.
The elated baby's mother attended a campaign against neonatal problems within the village and educated other women about the issue. She also spoke at length on breaking away from a conservative mindset in order to provide a healthy life for the baby. She advocated the importance of eSanjeevani's telemedicine program within the village that would provide early diagnosis for illnesses, free of cost instead of traveling to city hospitals.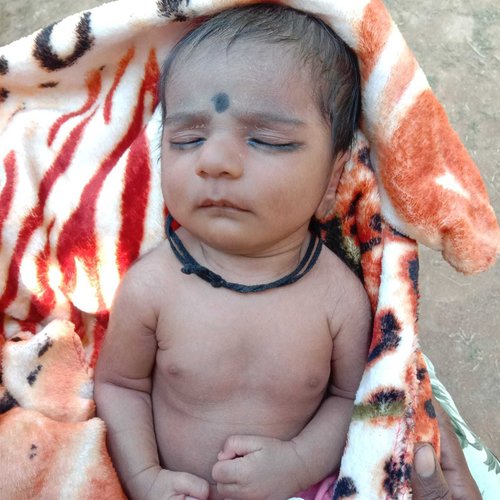 CHILD HEALTH
Beneficiary(small kid in red t-shirt) teleconsulting with a remote doctor at the HWC under the eSanjeevani telemedicine program, Khunti district (Jharkhand)
Poor road connectivity, lack of health facility centres have always been one of the major concerns in rural areas. This makes access to quality healthcare services for villagers difficult. In Khunti district (Jharkhand), a differently-abled child from one of the villages fell from his bed causing an injury on his lips that needed immediate medical attention. The village had no nearby medical facility or doctors for emergency first aid treatment. The mother and the child would have had to travel by bus to a city hospital but unfortunately, the bus that travels to the city once a day was left by then.
However, owing to the implementation of eSanjeevani a telemedicine initiative in the district, the mother could bring the child to the nearest Health and Wellness Centre (HWC) for treatment and immediate care instead of traveling to far-flung city hospitals. The Community Health Officer (CHO) provided first aid to the child and initiated teleconsultation with a remote doctor for a further treatment plan. The remote doctor prescribed necessary medications and the child is on the road to recovery. Telemedicine enables timely, affordable as well as quality healthcare treatment without having to travel long distances resulting in saving of time and money.
Intelehealth & Transform Rural India together have partnered with Govt. of Jharkhand, NHM Jharkhand & CDAC to enable telemedicine services in the underserved communities of the state.
MALARIA
Priya Kumari (right) identity changed at eSanjeevani Health & Wellness Centre, Gumla ,Jharkhand
While appearing for my B Ed exams in a district in Jharkhand, I was running a very high fever. I took a basic paracetamo<
l for a few days but the fever didn't subside. Worried about my health and the ongoing pandemic, I did a blood test. The reports came in 2 days and I showed them to a local doctor, who diagnosed me with Malaria. She gave me a 3-day injection course and medication. I followed her advice and completed my medication course, but the fever kept recurring. Post my exams, I went back to the same doctor who then asked me to get admitted. I was put on a drip for a couple of days due to increased weakness. I ended up spending so much money on medication and hospitalization, but still, I was not feeling fine.
I then went to my mother's house which was a little away from where my in-laws were staying. My sister Pratibha Singh who is working as Community Health Officer under the eSanjeevani program asked me to visit the health and wellness centre. So I visited the HWC where a remote doctor teleconsulted me and gave an in depth diagnosis. The doctor prescribed a few medications and in a week's time, I was feeling much better. The fever had gone and I had a good amount of energy
"I am grateful to the eSanjeevani team for launching this project in rural areas where people have poor access to quality healthcare. In Spite of spending thousands of rupees in traveling to hospitals, medications and OPD's, I didnt get well whereas at eSanjeevani AB-HWC, not only was the consultation free of cost, but I also recovered in a week's time"
NON-COMMUNICABLE DISEASES
Rajendra Mahli at eSanjeevani HWC, Jharkhand
Rajendra Mahli from Jharkhand visited the nearest Health & Wellness Centre (HWC) under the eSanjeevani telemedicine program in Gumla district for his COVID-19 vaccination. The Community Health Officer (CHO) at the HWC noted his medical history where he complained of weakness, non- healing ulcers in the axilla (armpit), profuse perspiration, and giddiness. The CHO immediately did a regular sugar test and checked his BP too. His sugar was on the higher side. The CHO identified that the patient needed immediate treatment and referred the case to a remote doctor for proper diagnosis and consultation.
A video consultation with doctor was arranged. The doctor upon checking Rajendra's medical history advised him to only do the vaccination once his sugar is within a comfortable range. The doctor prescribed a few tests and medications for a month. Rajendra did a thorough test where the results detected the prevalence of Type 2 diabetes. The doctor suggested a diet plan, rigorous exercise, and prescribed medications.
Rajendra visited the HWC after a few days for follow-up and did a test again where his sugar level had come down. He did not complain about the puss that was oozing out from the ulcers or giddiness. He kept coming in for regular follow-ups to the HWC, where he showed gradual improvement and eventually managed to take his vaccination.
Intelehealth & Transform Rural India together have partnered with Govt. of Jharkhand, NHM Jharkhand & CDAC to enable telemedicine services in the underserved communities of the state.
EMPOWERING DOCTORS TO GIVE BACK
Dr. Divya Singh, Medical officer at the Rajendra Institute of Medical College, Ranchi is currently working as a remote doctor under the eSanjeevani-OPD program
I always wanted to be a pediatric doctor. I completed my master's from Rajendra Institute of Medical College and Hospital, Ranchi and started work as a Medical Officer at the same college, consulting patients and teaching medical students part-time. In 2013 when I was in Delhi for a seminar, I met with an accident that led to paraplegia (injuring the spinal cord that paralyses the lower limbs) which resigned me to a wheelchair for the rest of my life.
This devastated me and I feared for my future. I was on rigorous physiotherapy for a while. As time passed, I always saw a blurred vision of my dream. This helped me stay strong and not give up. I said to myself, my health condition shouldn't be an excuse in treating patients. Hence, I customized my car at my own expense and travelled to the hospital to treat patients and teach students. It was not easy as I had to make multiple visits to the college office for partial reimbursements, approached the staff to adjust my working schedule roster so on and so forth. The college has been very supportive as I am the only doctor with a special case.
During my spare time, I love reading books and painting. I have written and published my own book 'Girl with wings on fire', which is on my struggle post by accident. I hope that it will motivate many people to pursue their dreams inspite of adversities. Over time my passion for teaching grew and treating kids gave me a sense of joy; just being around them and seeing them smile made me happy.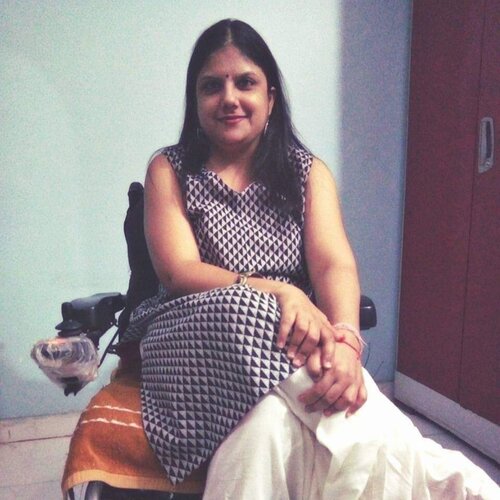 Dr. Divya Singh being helped by college staff into her customised car
Last year, as the pandemic struck and the lockdown was imposed, the college approached the medical staff to get enrolled as doctors for eSanjeevani OPD, Jharkhand. eSanjeevani-OPD is a direct-to-patient app for basic illness, medical and follow-up consultation. This project made my life easier as I could stay home and tele-consult patients. I have been working on this project for the past one year and have consulted almost 3,000 patients with 70% mild cases and 20% tertiary cases that needed special attention were referred to a hospital for further treatment. I not only treated children but also tele-consulted as a general physician and helped the poor with the right diagnosis.
"I am thankful for this project. It has enhanced my confidence and boosted my morale. Working from home has helped increase my productivity and save travel time as I strive to deliver quality consulting services to the needy who are most vulnerable during this pandemic"