Month:
April 2022
Soni Prasad, Community Health Worker, Kamde
My name is Soni Prasad. I am posted at Health & Wellness Centre, Kamde as CHO (Community Health Officer). Like many others, I did not have a privileged childhood with a lot of parental support. I was driven and ambitious in my pursuit of a successful career. My parents eventually recognized my ambitions and became supportive of my dreams as I grew older. Fortunately, I was married to a man who was both supportive and understanding. It was difficult at first, but my determination never let me give up on my dreams. With the support of my family and husband, I was able to complete my B.Sc. in Nursing and later decide to become a teacher. After 5 years of a successful teaching career, I was given an opportunity to work as a CHO at a Health & Wellness Centre (HWC) in Kamde.
eSanjeevani is a platform that connects people in rural areas to remote doctors for quality healthcare services. The majority of the rural population earns minimum wage and lacks the financial means to access quality health care. They have received free consultations from certified remote doctors and specialists through HWCs. eSanjeevani is a great initiative for providing quality healthcare to the last-mile population where there is no doctor. I hope to serve those in need and put forth my best effort for the community's well-being.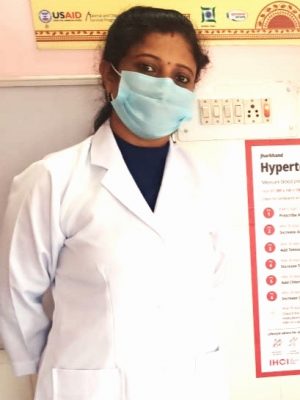 Jijabai Motiram Chaudhary, Anganwadi worker, Kapurne village, Nashik
"Jijabai Motiram Chaudhary has been working as an Anganwadi worker for the last 40 years. So it was no surprise that I (Dr. Shilpa Bhatte) found myself discussing the health needs of the community with her, at the Gram Panchayat meeting in Kapurne village, Nashik, during my community needs assessment visit. Jijabai shared her experiences of the various vaccination drives they had conducted in the village to the seasonal health challenges the villagers faced during monsoon. It was a pleasure hearing about her experiences in the field and the changes in healthcare that have happened over the years.
Her husband, Motiram, is a farmer and a huge supporter of her work. Her 95-year-old mother lives with them, and her grandson, who is 21 years old, recently married. As a result, four generations are living under the same roof, each contributing in some way to the village's development.
Access to smartphones is always a challenge for women, especially in rural/tribal areas – however, Motiram made it quite clear that Jijabai was an important member of the community and needed to be the primary owner of the household phone. Kudos to the spirit of these "barefoot doctors"!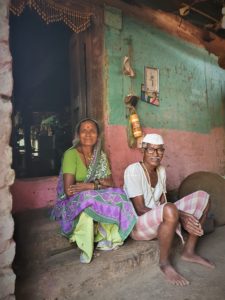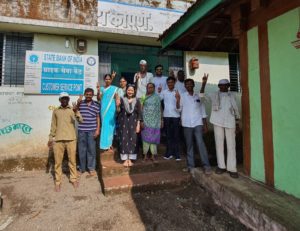 Khalimun Khatoon, Sahiya Worker, Khujra village, Lohardaga District
"My name is Khalimun Khatoon, and I am from the Lohardaga district's Khujra village. I live with my husband and other family members. I have been a housewife for a long time. My life after marriage was difficult. My in-laws and husband were frequently rude to me and used to harass me about household chores. I always craved respect in my life, which I never received as a housewife from my family.
Around this time a 'Sahiya' representative came to our village. I had no idea what 'Sahiya' meant. The representative explained that a team of health workers constitutes 'Sahiya' workers. I was intrigued by their goals and desired to be a part of the team. I always assumed that if I worked like everyone else, I would be respected and perhaps even supported by my family. My husband and I talked about this opportunity and my desire to work with 'Sahiya' workers. He was thoughtful and supportive. I realized that now was the time for me to establish my own identity, to go out and learn new things, meet people from all walks of life, listen to their problems, and help them as much as I could. 
I was warmly welcomed to the 'Sahiya' team. I attended several training sessions with highly experienced health professionals, where I was guided through the complexities of healthcare. I was able to be a part of the eSanjeevani initiative, which aims to provide affordable and high-quality healthcare to every corner of the rural sector through Telemedicine. During the COVID-19 outbreak, we educated people about COVID safety protocols in rural areas as well as the HWC (Health & Wellness Centre) initiative. I've been working for 15 years. I got an opportunity to build my own identity, be self-sufficient, secure my life, and most importantly, earn respect."
Savitri Devi, Health worker (working under Ekal Arogya Telemedicine project, Ranchi)
"I am Savitri Devi, and I'm from Sanch Silli in Ranchi's Anchal Ramgarh district. I have been living with my husband, Megnath Mahato, my father-in-law, and two children. I was a housewife before joining Ekal Arogya. Because I was the only woman in the house, I was responsible for all the household chores. It was challenging for me to manage both household activities and work at the same time. When I originally told my husband that I wanted to work for Ekal Arogya as a Frontline Health Worker, he was hesitant at first. But I had always wanted to help individuals struggling for a fulfilling life, and this was my chance. Despite numerous protests, I decided to take this opportunity and join Ekal.
I was always uncomfortable and afraid to talk in public. I didn't have much experience in the medical field either. However, the team of doctors and specialists thoroughly described every area of healthcare to us and explained the fundamental procedure. For the first time, I was grateful to be a part of these innovative and interesting workshops with such experienced doctors. I gained a lot of confidence after joining Ekal. Ekal provided me with a unique identity. People from my village began to recognize me as a result of my efforts. 
My husband, too, was incredibly proud of me and my accomplishments. When I didn't have access to transportation, he took me to conventions and health centers. Now that I have acquired a scooter, I have mastered the art of self-driving. I never imagined I'd be so self-assured and courageous in my life. I am extremely grateful to the Ekal Arogya Foundation for providing the opportunity to contribute to the delivery of high-quality healthcare services in rural areas through Telemedicine.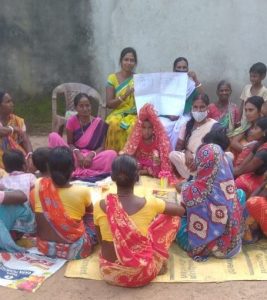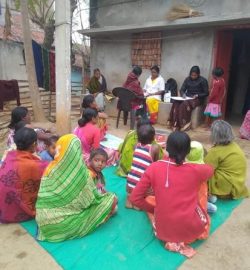 Kamal Nikule, Health Worker, Arogya Sampada
I'm Kamal Nikule, I currently reside with my parents in Ghotpara a remote village in Nashik. I am married with a 4-year old daughter, but I have been living alone for quite some time. My husband was unable to support our family. He eventually couldn't afford to provide us with the most necessities for our life. Every day, he grew more resentful of me, and eventually, he chose to disown me. I returned home and informed my folks of everything that had happened. With all the pressure from society, it was difficult at first, but I kept my cool. It's been three years since my husband left me, and I've never looked back. I needed a job to make ends meet and provide my daughter with the life she deserved.
One day I was approached by the Intelehealth family to work as a Community Health Worker under the 'Arogya Sampada Telemedicine' project. I immediately agreed to work for a cause. Intelehealth has been important in assisting me in my quest to become self-sufficient and independent. They have been working hard to make life easier and more comfortable for those who live in rural areas and have little or no access to quality and affordable health care services. Intelehealth has provided me with a fantastic opportunity to advance in my life and protect my future. I am honored to be a member of such a prestigious organization.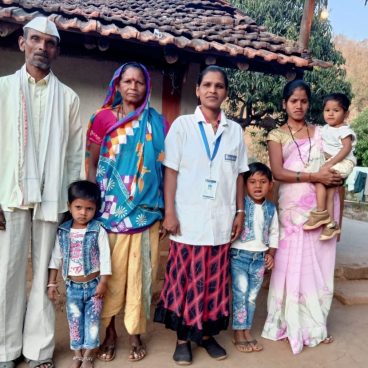 Other Blogs